Do your investments keep you up at night?
We all know the markets have their ups and downs, and understand it's crucial to have a disciplined approach to investing. But even seasoned investors can get panicky at a sudden market downturn, or overconfident during a market surge. If we overreact at those moments, we can lose sight of our goals and undermine our investment strategy, losing out in the long run.
Each of us defines "unacceptable loss" in our own way, depending on how much we have, how much we need, and how much feel we can afford to lose. If our portfolio loses more than that, we can make bad decisions. It's human nature.
Aiming to get rid of that panic button.
At 435 Financial, we use a web-based tool called Riskalyze to assess those vital factors and find your risk comfort zone. Then, we strive to ensure your portfolio is geared to pursue your short- and long-term goals – so you can sleep better.
Based on the Nobel-winning concept of prospect theory,* Riskalyze puts the human factor front and center, helping us at 435 Financial ensure that your portfolio doesn't fit some generic "conservative" or "aggressive" mold, but fits you.
Find your Risk Number now!
Click the Riskalyze box to answer a few quick questions about your age, expected retirement timeline, and assets. You'll be asked about your expectations for losses and gains. Then, you'll see a chart, like the sample, and your Risk Number.
We'll contact you via your preferred method to talk about how your current portfolio meets your expectations.
This is a complimentary consultation with no obligation. We don't collect any personal identification information, and will never distribute your e-mail address to anyone.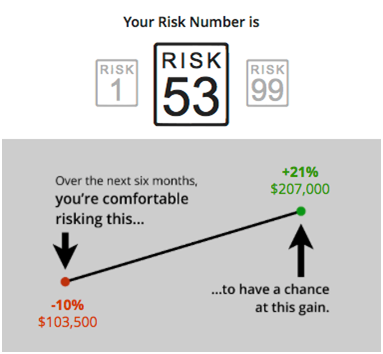 *Developed by researchers Daniel Kahneman and Amos Tversky, prospect theory is a behavioral economic theory that describes the way people choose between alternatives involving different levels of risk. The theory holds that most people make decisions based on the potential value of losses and gains, rather than on final outcomes. Kahneman's and Tversky's original paper, "Prospect theory: An analysis of decision under risk," [http://www.princeton.edu/~kahneman/ docs/Publications/prospect _theory.pdf] was originally published in 1979. Kahneman was awarded the Nobel Memorial Prize in Economic Sciences in 2002.
Riskalyze is a separate entity from 435 Financial, Private Advisor Group and LPL Financial.
Your Risk Number provided is on a scale of 1 to 99, with higher numbers indicating higher risk tolerance. The risk range shown describes the comfort zone for your investments. Over the next six months, it represents a hypothetical target that you would prefer to keep your investments within. Using the example shown above, this would mean the investor would be comfortable risking a loss of -10% or $-103,500 in exchange for the chance of making a gain of +21% or $207,000. There is no guarantee any investments would perform within the range.
IMPORTANT: Content in this material is for general information only and not intended to provide specific advice or recommendations for any individual.The projections or other information generated by Riskalyze regarding the likelihood of various investment outcomes are hypothetical in nature, do not reflect actual investment results and are not guarantees of future results. Individual results will vary.
Our investment advisors would be happy to answer any questions you have about your financial situation. Get answers to your most pressing questions.

Financial planning and advisory services offered through IFG Advisory, a registered investment advisor. Securities offered through LPL Financial, member FINRA / SIPC
Carolina Planning Consultants, Integrated Financial Group and IFG Advisory are separate entities from LPL Financial. The LPL registered representatives of Carolina Planning Consultants may only discuss securities or transact business with persons who are residents of CT, FL, GA, IN, ME, NC, NJ, NY, OH, OR, SC, VA, VT. No information provided on this site is intended to constitute an offer to sell or a solicitation of an offer to buy shares of any security, nor shall any security be offered or sold to any person, in any jurisdiction in which such offer, solicitation, purchase or sale would be unlawful under securities laws of such jurisdiction.
Copyright 2023. All Rights Reserved.